Features
Lever
Lever
The lever is used to treat spot pain in the shoulder-neck area, in the back or in the gluteal area. With its sensitive nose, the lever sniffs out pain and relieves it through trigger point pressure in less than two minutes.
Duoballs
Duoballs
When you feel tension in the back, you can roll it away with the duoballs. The slow movement gives the tissue time to relax and turns the short time spent on the wall into a little wellness vacation.
Adjustable
Adjustable
No matter if you are a dwarf or a giant – the duoballs adapt to the individual size of the user due to their adjustable mount.
85 %
of the population have experienced back pain.
8 million
days of sick leave annually due to back pain.
40 %
of early retirement is due to back pain.
100.000
hospitalisations annually due to spinal issues
90 %
of back problems can be self-treated
---
We have turned several humpback whales into agile dolphins.
---
How to use it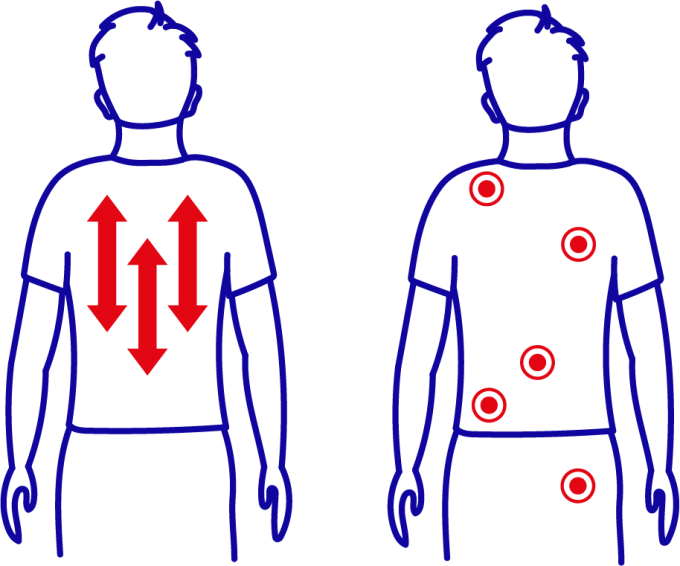 If sitting is the new smoking, then the TensionTerminator is the new nicotine patch. Learn more about how to use it properly.
Frequently asked questions
Where should the TensionTerminator be installed?
A location next to the management office is probably not such a good idea. The cafeteria proved to be an ideal spot, where the TensionTerminator becomes the focus of attention and contributes to the entertainment of the team. Other suitable locations are areas where the entire staff frequented passes through, e.g. on the way to the bathroom or the copy machine.  
Can the TensionTerminator be disinfected?
Generally, yes. Please refer to the detailed instructions for cleaning and maintenance in the instruction manual.
Is it possible to sustain an injury from using the TensionTerminators or can the back pain get worse?
Too much is never good. The most important principle in using the TensionTerminators is: "listen to your body" and respect your individual pain threshold. The instruction manual provides detailed anwers to this question and helps to use the TensionTerminator in a safe way.
---